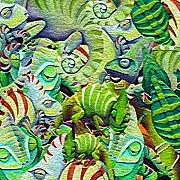 The chameleon character is a character that has multiple characters or colours that it can chose from – It is thus the character that can play many characters depending on what characters it has stored within its database of characters.
The chameleon character stores a database of memories of past experiences that self has had with other people as picture presentations of how self experienced self with those people and thus as self moves into the vicinity of a person (environment) that self had stored a memory of one's past experience, this picture presentation flashes through one's mind where by tacit implication of the memory flashing through one's mind, self agrees to this memory as an experience of self. By one's agreeance to this memory self accepts and allows self to become the manifestation of the character (colour) as experience as the memory represents. Essentially when entering into a person's presence that one has a stored memory of, self changes the character (colour) of oneself to the 'experience' that the memory represents.
The chameleon character is thus a character with many 'colours' or many characters, as the environment or the people in the environment changes so do one's 'colour' or character change to suite the environment or people in the environment.
The chameleon character thus has a database of memories stored of 'who to be', in 'who's environment,' as becoming these 'colours' or characters is part of how the chameleon character sees itself as able to adapt or survive within it's environment.
Here is an example of the chameleon character:
A friend of mine walks into the room and I sense a change in my behaviour, my facial expression changes, I have a warm feeling towards them. So I stop and look within and as myself. I look for the character that I have accepted and allowed myself to be within the presence of my friend. Within my mind I find a picture presentation of myself of how I see myself when I am in the presence of my friend. I see a picture presentation of myself where I feel safe, but also submissive. I feel accepted and loved. I realise that this picture presentation of myself is one of the chameleon characters' characters that the chameleon character has adopted for this environment. I realise within and as myself that I had just become a character within and as this moment, where I am not present because the character that I had accepted and allowed to manifest is standing before me as life. I stop and breathe and bring the character as a picture presentation of myself here. I allow myself to apply physical self forgiveness and I allow myself to let this character within and as myself go, to no longer be character within the movie that I am playing as my life, but to instead stand as life as breath, here.
When the chameleon character is faced with multiple 'environments' as different people coming together in one environment, where the chameleon character would usually chose a specific character (colour) to play and these two environments as two different people make the chameleon character choose between conflicting characters (colours) to play a role, the chameleon character will adapt to its environment and create a new character (colour) to play when in the environment of both these environments as people that it is in the presence of.
Here is an example of the chameleon character when two environments as two different people is making the chameleon character choose what character to play:
One of my high school friends looked me up and decided to come and visit me and during the time of their visit my current friends are throwing a party. In high school I used to drink allot with my high school friend and since I left high school I became more involved with intellectualised and artistic people who live a more sophisticated lifestyle. I found myself torn between wanting to be silly and spontaneous with my high school friend and being sophisticated with my new friends. I found myself toning down both my high school drinking character and my sophistication character to find a balance between the two environments as different people that I found myself in contact with.
Having two of the chameleon's characters collide shows us and indicates to us how much we change within and as ourselves in order to 'fit in' within the environment as people in our environment that we find ourselves within and as. It is a clear indication that we are living as characters and not here as breath within and as the moment.